鑫岩资产
Xinyan Asset Management
A wholly-owned subsidiary of Xinyuan Group and a financial company
A wholly-owned subsidiary of Xinyuan Group and a financial company with independent private equity license, Xinyan Asset Management serves as one of the Group's five major real estate related businesses. Focusing on construction financing and investment, Xinyan Asset Management is a typical for-profit financial company that is in persistent exploration of new channels and new businesses. Built to enlarge the capabilities of Xinyuan Group, Xinyan Asset Management has become the Group's capital raising center, providing financial services, building financial platforms, and becoming a new benchmark in real estate industry.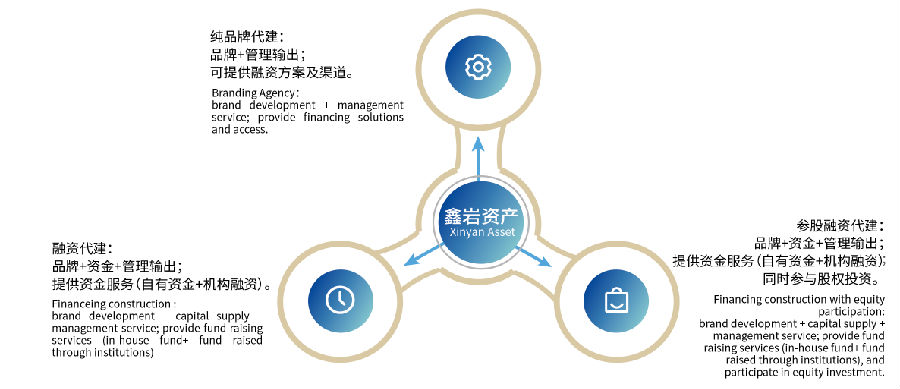 QIQIHAER GOLDEN HARBOR INTERNATIONAL HEALTH TOWN PROJECT
Located in Qiqihaer Heilongjiang facing the Mingyue Island Tourism Resort cross the river with a gross area of 65 square hectometer. About 7 km from the City Government 18 km from Sanjiazi Airport. The project enjoys top-class location traffic and nature
GONGYI QINGLONG MOUNTAIN PROJECT
Located in Qinglong Mountain Tourism Resort of Gongyi City and 50 kilometers from Zhenzhou this is a comprehensive project that targets on tourism cultural industry retirement care recuperating center etc. The first phase of the project involves a land pa
GUANGZHOU GLOBAL PLAZA
This project is located at Yuexi Road Haizhu District Guangzhou City with a total floor area of 70000 square meters.
ZHENGZHOU DERUN GOLD COAST
To the west of Jingguang Road in Erqi District to the east of University Road to the south of Changjiang Road and to the north of the South-North Water Diversion Canal the project covers a total area of ​​3291 mu with a planned gross floor area of ​​nearl